Support for the development of this editorial report was provided by the Business Unit Compounding of Fresenius Kabi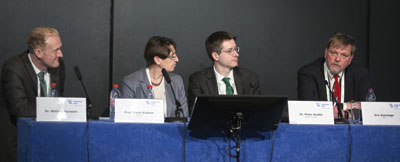 Support for the development of this editorial report was provided by the Business Unit Compounding of Fresenius Kabi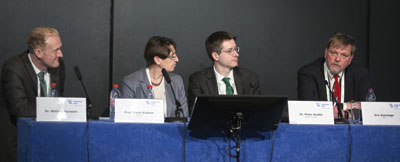 The art, science, and technology of pharmaceutical compounding represents patient-centred care, particularly for parenteral nutrition (PN), for individuals who cannot orally ingest or digest nutrition. Depending on differing knowledge and differing practical applications, only slight differences in processes for same prescription can be sufficient to change it from a deliverable to an undeliverable admixture. Sometimes, these patients can also receive parenteral nutrition from industrially produced standardised multi-chamber bags, especially because different formulations are now available on the market. For both compounded preparations and standardised multi-chamber parenteral nutrition bags, quality and safety is of utmost priority. However, the needs of the patients and the health care professionals are what drive the development of both types of products further.
Despite the fact that PN compounding is an intensive and expensive process, most hospital pharmacies, and particularly large facilities, are able to maintain all (or at least most) of the production in-house. By contrast, industrial environments are associated with higher quality standards compared with pharmacy settings, through implementation of compulsory Good Manufacturing Practice (GMP), which can lead to greater benefits in PN preparation. At this point, individual hospital pharmacies should decide the best option for them: to individualise compounding of PN, which could be produced in-house and/or outsourced, or use standardised multi-chamber bags. There is no generally accepted solution, and any outdated suggestions on which method is preferable should be rejected, because every hospital is a unique case that requires a custom-fit approach. The best chance of making the right choice is to make an informed decision: being aware of the different options and having collected sufficient information and knowledge. After all, it must be borne in mind for whom and for which purposes the PN preparation will be prescribed: to a malnourished patient, and in order to enable and expedite full recovery.
Hippocrates said, "Let food be thy medicine and medicine be thy food". PN is intravenous therapy optimising the nutritional status of the patients, and is gaining momentum. European health authorities have already recognised that investment in PN leads to significant savings not only in terms of hospitalisation costs and reduction in length of sick leave, but that it also improves patient quality of life. The current trend of better understanding and diagnosing more malnourished patients leads to an increase in parenteral nutrition preparations. Fresenius Kabi strongly believes in further development of PN needs, and accepts the same responsibility as the hospital pharmacist does – that is, to ensure that PN preparations are manufactured or compounded both safely and accurately first time, every time.
At the EAHP Congress 
As every year, Fresenius Kabi attended the 22nd Congress of European Association of Hospital Pharmacists (EAHP), held in Cannes in March 2017. Among other topics, the importance of quality and safety in compounding processes was discussed. Hospital pharmacists, who comprised a major part of the congress audience, are aware of their main responsibility, which is to deliver the right medication, at the right dose, at the right time, and to the right patient. This is particularly true for compounded intravenous drugs, because each step of their handling, from the demanding aseptic production to irreversible administration, requires the highest possible levels of quality and safety. However, the same applies to the preparation of compounded PN admixtures, and Fresenius Kabi therefore organised a satellite symposium, entitled TPN Compounding in Europe and in the USA: Current Situation, Main Risks & Technology Trends, covering this topic. Prof Dr Irene Krämer (Germany), Dr Peter Austin (UK) and Mr Eric Kastango (USA), who are key opinion leaders in pharmacy compounding, agreed to share their expertise in PN preparation, its microbial risks, and the current state of robotic and IV workflow technologies used in pharmacy practice settings with the audience.
PN automated and digitalised
Although Prof Dr Krämer (Director of Hospital Pharmacy, University Hospital of Mainz) spoke about ready-to-administer admixtures facilitating the daily work of the pharmacist, she also pointed out that in-sourcing instead of out-sourcing helps to keep the expertise and 'art of compounding' in-house. Another topic she introduced was quality assurance, which is very often improved by automated systems that deliver the components under computerised control and with great accuracy and precision. Developments in this field are also controlled by regulatory bodies but there are currently no EU guidelines available for aseptic compounding. Only the Pharmaceutical Inspection Convention and Co-operation Scheme (PIC/S) issues international guidelines, which are used by European healthcare establishments in addition to national guidelines. In the US, the available guidelines are from the American Society of Health-System Pharmacists (ASHP), and the USP<797>. Prof Dr Krämer emphasised the main reasons to automate PN compounding: "To achieve both a higher consistency of process and product, and a higher degree of accuracy, safety and efficiency." She concluded her presentation with recommendations to implement computerised provider order entry modules, which significantly reduce the frequency and severity of PN medication errors.
PN as an ideal growth medium for microbes
Dr Peter Austin (Oxford University Hospitals NHS Foundation Trust) presented his analysis of microbiological risk that often poses a threat to the PN compounding process. Being a quality control pharmacist with high expertise in nutrition support, he has pointed out that the consequences of infected infusates can include catheter-related sepsis or even death. He stated, "The risk factors when aseptically compounding PN can be divided into two categories: modifiable and potentially modifiable." He discussed an important pharmaceutical problem in that while it is more complicated to change recycled paper prescriptions to electronic ones for PN, and to possibly change the PN formulation to alter growth of microbes, pharmacists can still contribute to positive developments in both environmental and educational fields. Educational factors include the need for training programmes for aseptic operators and also audit of compliance, and standardised policies, etc. This was not the first time during EAHP that key opinion leaders highlighted the need for broadening compounding knowledge through dedicated continuing education in the health care society.
Final user – the patient
In order to compare PN compounding in Europe with foreign standards, pharmacist Eric Kastango shared his experience as a member of several USP committees (including ASHP and the National Association of Boards of Pharmacy) and expert panels involved in aseptic compounding. He provided the audience with information about current states of robotic and IV workflow technologies used in pharmacy practice settings, highlighting the safety aspects of whole compounding. "To prevent patient harm" is an introduction and goal of USP <797> itself. One may forget that failure to follow proper setup, calibration, disposables replacement, and cleaning procedures will result in an adulterated product that may have improperly delivered ingredients and/or microbial contamination.
Taken as a whole, and disregarding which therapeutic tool in health care is implemented, every effort should be made with constant thought of who its final user. 'So it is the patient!' concluded Mr Kastango.
To those who seek compounding excellence Fresenius Kabi, as in previous years, did not miss the opportunity to be present at the Congress and to remind attendees that they are the versatile compounding expert. Being a "Full Service Partner", an umbrella message of the Congress, attracted attendees to the Fresenius Kabi booth, where the company's broad-based skills were showcased, comprising everything that counts for both PN and oncology compounding: from numerous product portfolios including IV drugs, nutrition components, standard solutions and medical devices, to compounding products and services. The accessibility of company's expertise is broadening throughout the world, same as current offering so the health care personnel can take an advantage of Fresenius Kabi providing a complete solution in compounding and stay focused on their main priority of treating patients. This fits well with the topic of next year's EAHP congress: "Show us what you can do". Hospital pharmacists are fully engaged in future developments in the field of hospital pharmacy and Fresenius Kabi will remain their best partner in shaping tomorrow's practices.