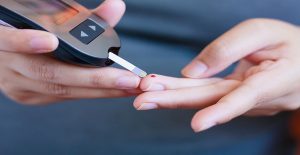 A once-daily tablet could reduce blood sugar in adults with type 2diabetes, a study has shown.
Oral semaglutide, an investigational GLP-1 analogue from global healthcare company Novo Nordisk,achieved "significant reductions in blood sugar versus placebo in adults with type 2 diabetes", according to the PIONEER 1 phase 3a trial.
The trial evaluated the efficacy and safety of 3, 7 and 14 mg oral semaglutide compared with placebo as monotherapy over 26 weeks in adults with type 2 diabetes. [1]
Researchers applied two approaches when evaluating the effects of oral semaglutide in the trial.  They used an 'intention-to-treat' principle evaluating the treatment effect, including the effect of rescue medication and regardless of premature trial product discontinuation.
Their secondary approach used an 'on-treatment' principle that evaluated the treatment effect while on trial product and without using rescue medication.
Applying the intention-to-treat principle,researchers said the trial achieved its primary objective by demonstrating that people treated with any of the three doses of oral semaglutide achieved significant HbA1creductions compared to placebo (p<0.001 for all estimated treatment differences in HbA1c for oral semaglutide vs placebo).
Researchers added people treated with 14 mg oral semaglutide achieved significant reductions (p<0.001) in weight vs placebo while weight reductions with 7 mg and 3 mg doses did not reach statistical significance. [1]
Commenting on the findings, Vanita Aroda, associate director, diabetes clinical research, Brigham and Women's Hospital, Boston, United States, said: "Despite advancements in the diabetes treatment landscape, many people with type 2 diabetes still struggle to reach their HbA1c target."
She added that based on the first results of the study she was "optimistic about the potential of having an oral GLP-1 receptor agonist that may help patients achieve their HbA1c and blood sugar goals".
When applying the on-treatment principle from a mean baseline HbA1c of 8.0%, people treated with 3, 7 and 14 mg oral semaglutide achieved HbA1c reductions of 0.8%, 1.3% and 1.5% respectively, compared to 0.1% with placebo. [1] In addition, 59%, 72% and 80% of people, respectively, treated with oral semaglutide achieved the ADA treatment target of HbA1c below 7% compared to 34% treated with placebo. [1]
When applying the on-treatment principle, people treated with 3, 7 and 14 mg oral semaglutide experienced a weight reduction of 1.7kg, 2.5kg and 4.1kg respectively, compared to 1.5kg with placebo. [1] Some 21%, 29% and 44% of people treated with oral semaglutide achieved a weight reduction of 5% or more compared to 16% with placebo researchers found. [1]
References
1.    Aroda VR, Rosenstock J, Terauchi Y, et al. Effect And Safety Of Oral Semaglutide Monotherapy In Type 2 Diabetes: PIONEER 1 Trial. Abstract 2-LB. Presented at the 78th Scientific Sessions of the American Diabetes Association, 22-26 June 2018, Orlando, Florida, U.S. 2018.